"Those who use e-bikes on a regular basis benefit permanently–
Not only in terms of their fitness, but also in terms of other factors such as blood pressure, fat metabolism, and their mental well-being."
…Says Arno Schmidt-Trucksäss, Professor of Sports Medicine at the University of Basel (Switzerland) on the study results.
Overall, he suggests that the study provides an important indication of the preventive potential of e-bikes.
Is An Electric Bike For You?  I love riding them!  I started renting them on vacation years ago all across the United States while on vacation.
I rode faster, climbed more hills and saw some beautiful places.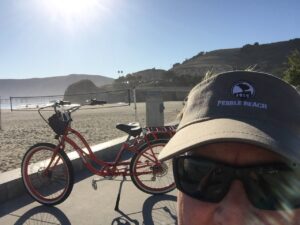 First ride was at Avila Beach CA.   Zoomed up from the beach, along the golf course, by the river and up into the mountains.  What a rush!
It was thrilling and it transformed my thinking on bicycling.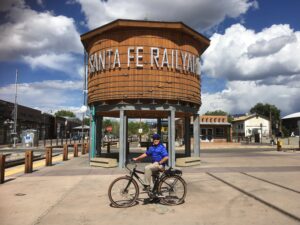 The trails system in Santa Fe, NM is gorgeous and fun.  What is really cool is to ride through Old Santa Fe and the town square.  Then head on down the trail system which runs next to the express train flyer that runs from Santa Fe to Albuquerque.  Gorgeous views.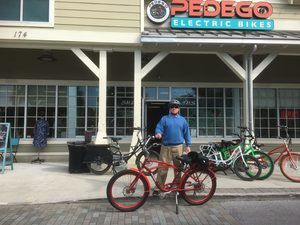 Then on Hwy 30A at Seaside, Fl on the gulf near Destin, FL.  Rode all through Seaside and then the long trail that runs along the coast stopping at various locations to enjoy the beach and the views.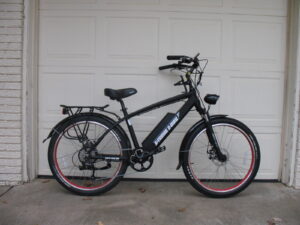 I have my own bike now.  I've put over 5,000 miles on it since November, 2017.
Oklahoma City has a fabulous and extensive circuit of bike trails all over the city as good as any in the nation.
My favorite ride is the 9.5 mile ride around Lake Hefner where the top photo of me was taken.
I am able to go out riding even when the wind is up and that is a big factor that keeps most people off the trail.  The lyrics:  "Oklahoma where the wind comes sweeping down the plain", is no joke!
On the lake ride, half of it is downwind, but you turn into the 25 mph wind and you could be down to alpine gears on a regular bike.
This keeps a lot of people inside. Not so with the electric, adjust the power up and keep going, maintaining your desired heart rate.  I could list many more benefits…I will do so with more articles to come!
This article was from a specific study at the number 1 university in Switzerland.  They documented people derived excellent aerobic benefits when riding an E-bike compared to a control group.
Please Click Here to read the full study.
…Note:  There are maintainers all over the world!  I like to look up an article's location and see places I have never seen before.
Today's location is The University of Basel, Switzerland,  Please Click Here to learn more about it.  There are some very notable alumni whose names you'll recognize.
To learn more about the city itself, Click Here.  Never been there, but it looks like a beautiful place.  Enjoy!  TK.  (04/25/20 – 9).
Journaling Jokes: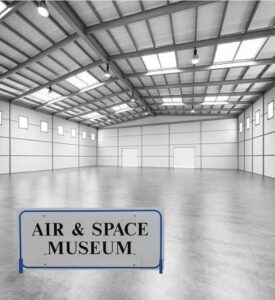 iPhone photo of me at Lake Hefner Trail, Oklahoma at the lighthouse.  (Taken by a friendly stranger).